Our team of yoga instructors brings a wealth of knowledge and expertise to each class, ensuring that you receive the highest quality instruction tailored to your individual needs. With years of practice and training, our instructors are well-versed in various yoga styles and techniques, allowing them to create dynamic and transformative experiences for all levels of practitioners. Whether you are a beginner or an advanced yogi, our teaching staff is committed to supporting your growth, helping you cultivate strength, flexibility, and inner peace.
Hayley Schmidt
Owner & Founder
Eric Schwarz
Senior Teacher
Sava Papos
Senior Teacher
Greg Jarema
Studio Manager
Anna Varga
Eve Laurén
Jess van Beijnum
Jo Feghale
Kat Gregory
Kate Taylor
Laticia Wright
Oli Frances
Steph Johnson
Tess Jennings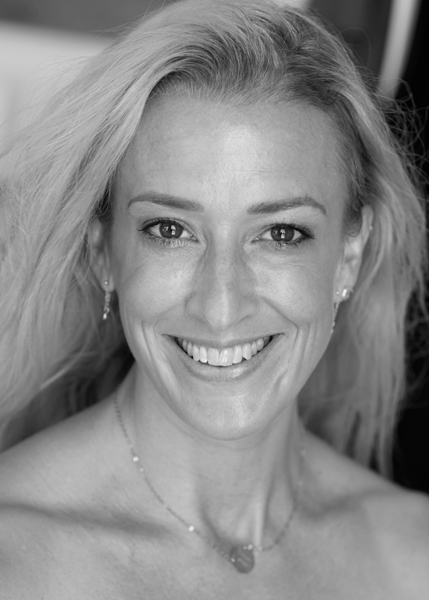 Hayley Schmidt
Founder of Beyondbeing Yoga
Drawing from the disciplined world of dance to the depths of personal loss, Hayley Schmidt has created a yoga experience that strengthens the body while healing the spirit.
As a professional dancer, Hayley first approached yoga from a physical standpoint, striving for extreme strength and flexibility of her body. But when she experienced an unexpected tragedy, life as she knew it cracked open. Her practice taught her to observe and accept – and became her salvation.
In 2012 she opened Beyondbeing Yoga, a popular studio in Subiaco with a rotation of extremely qualified and experienced teachers. Her vision? To help others through the power of yoga, just as it helped her.
Hayley's classes offer the discipline and dynamism of dance. Using her in-depth knowledge of human anatomy, she leads a nuanced practice that gives a transformative body, mind and soul experience.
With intelligent sequences designed to help you expand every inch of your being, Hayley's teaching holds a lyrical quality of concise instruction and specific energetic cues, all the while offering philosophical meditations that guide you into higher states of consciousness.
Hayley's classes are for anyone curious about how they can open their mind while strengthening their body – and lead life with a greater sense of meaning and connection.
Eric Schwarz
Co-Lead of 200-Hour Yoga Teacher Training
Eric is a Yoga Teacher and a life coach. His teaching style is engaging, empowering and creative, embracing the full potential of body, mind and spirit.
Eric was voted best yoga instructor in Washington, DC in 2016 and his students across the globe are a testimony of this honour.
Eric is an E-RYT 500 and leads state of the art yoga teacher trainings.
His personal journey and transcendent life teachings light up his classes, shining hope, unwavering faith and transformation. Eric's teachings inspire students from all walks of life to offer their best to themselves and the world.
His classes are fluid, breath-focused and purposely sequenced in the most rewarding way, helping students discover inner peace, serenity and joy.
Eric incorporates embodied wisdom from his work as a life coach and his teachings serve as a backdrop for the real transformation that happens when a student learns to quiet the mind and open the heart.
His classes range from peaceful, introspective flows to energetic mind and heart expanding power vinyasa.
Eric's passion for yoga as a spiritual practice is felt in each posture, guiding from a place of long life learning, faith and trust in the sacred mysteries of life.
Eric's kind and loving presence are well suited to leading students of all levels. He offers deep gratitude to his teachers Natasha Rizopoulos and Chanda Creasey.
"In a culture that discourages introspection, it takes a certain sensitivity to practice yoga in the first place. It also takes courage to reconcile what it means to stay sensitive in this world without losing a sense of self. Through my practice, I've come to understand that learning goes well beyond the intellectual, and through trust and faith in this spiritual realm, I walk this Earth knowing there is always potential to learn and grow, no matter what arises." – Eric Schwarz
Sava Papos
Sava discovered Hatha and Iyengar Yoga in 1997 and was eventually drawn to the Ashtanga Yoga method in which he has maintained a committed daily practice since 2007. He teaches from this lineage, yet continues to learn through modern Vinyasa teaching techniques and extends this combined knowledge through his class delivery. Sava's classes are focused and strong, continually guiding students to be present and conscious of the body/mind/breath connection in their practice.
"Yoga for me is about exercising our mindfulness through movement. When we can relax the mind, the body can also relax. Practice is for everyone. Whether we move or sit for any class, our practice is complete as long as we focus our attention on the power of breath and meditation."
Jo Feghale
Practicing yoga since 2000 and teaching since 2009, Jo has since co-created and co-led both 200-hour and 300 hour teacher training's in South Africa and Germany. Jo has studied with many teachers and different schools of yoga deepening her knowledge of yoga and of herself. She weaves different elements of her experience both on and off the mat into her teaching which through the years has evolved and transformed as she has. The practice has supported Jo physically, mentally and emotionally through challenging times and has continued to be an integral healing practice in her life. Jo aspires to inspire her students to go deeper into their breath and body, to reconnect to their core, consciously moving towards freedom by being receptive and tuned in to their own energy.
Carefully and intelligently curated, Jo's dynamic, thoughtful and creative classes focus on technique, breath and attention to transitions. They are interwoven with elements of exuberance and aim to cultivate strength and flexibility all the while maintaining a softness of Being.
Greg Jarema
Studio Manager
​Greg Jarema believes yoga is a lifelong practice of using movement, breath, and meditation to access the gifts of the present moment. Greg brings his passion for connection, humour, storytelling, music, dance, spirituality, and community into all of his classes. With 800+ hours of training and 1,000+ hours of teaching under his belt, Greg has studied Vinyasa, Kundalini, and Yin traditions. His classes merge challenging physical sequences, traditional breathing techniques, and always finish with meditation so that you can carry the yoga off of your mat. Greg aims to help you discover something new every time you practice. When not teaching, Greg is a professional actor and musical theatre performer.
Instagram: @GregJarema
Jess van Beijnum
Energised by the foundations of movement deeply rooted in her dance background, Jessica will offer a class that invites you to feel into your body with curiosity and compassion. She has completed 500hrs of yoga teacher training across styles of vinyasa and yin yoga. Her intention is to guide you into sensation and out of your thinking mind with each practice. Inspired by all things somatic, movement and music is the language of her soul. Dedicated to holding space for her students to explore the depths of their inner wisdom and learn how to sit with themselves. From there, students learn to recognise their own habits, patterns of thinking and feeling, then are equipped to respond from the heart.
Kate Taylor
Kate has been teaching since 1999, offering an array of creative and inspiring classes to challenge and enhance the experience on the mat.
Tess Jennings
Inspired by a desire to alleviate the mental unrest and emotional turmoil that so frequently permeate our urban lifestyle, Tess endeavours to share with her student's tools realised through her own practice and study, to encourage self-inquiry and self-support.
She offers a dynamic and explorative flow class, and a warm and nurturing Yin class. Her goal is to provide a safe space for students to decompress, to connect with their bodies and breath, and to explore the layers of conditioning influencing their mental wellbeing and anxieties.
Eve Laurén
I started Yoga when I was seeking a way to heal physically and emotionally from a serious scooter accident in 2010. Yoga let me fall in love with the world. I'm obsessed with yoga philosophy and anatomy and spend a lot of my free time reading and learning about it all. I first knew I wanted to be a Yoga instructor in a Yoga Nidra class at The Yoga Barn in Bali in 2015. I needed a break from my Chef job and decided to take my first trip to Bali and heard that Ubud was the place to be. I was deeply moved by this incredible teacher, a Jamaican woman called Nadine McNiel. She was so powerful, yet so gentle, and was able to bring me into a state of presence that I had never experienced. I thought to myself, I really want to facilitate this for people. I have a home yin and meditation practice and I train with a Personal Trainer once a week. I live right next to South Beach and I try to get into the ocean every morning before work. It's a really cruisey lifestyle here compared with other places I've lived, like Los Angeles and Bolivia.
Instagram: @BadYogiSociety
Kat Gregory
Kat first discovered yoga at her local gym in 2008; it was a couple more year's before she stumbled into a Bikram Yoga class in 2010 when she really found her passion. From then on Kat hasn't looked back. Since graduating from Bikram's College of India in 2011, Kat has taught in studios all around Australia and the UK. Since then Kat has expanded her teaching styles to Yin and Vinyasa over the past seven years.
Combining functional anatomy and modern alignment with her passions for energy healing Kat aims to offer a unique experience within her yoga classes. There is nothing Kat enjoys more than speaking about energy, Chakras, meridians and current energy forecasting in an easy to follow and down to earth way.
Kat is always keen to further her skills and personal practice through continued education to keep her work evolving and fresh. She truly believes we never stop learning and there is still more to discover and unveil.
Anna Balston
Anna's teaching empowers you to trust in your innate wisdom and open yourself to the transmission of yoga. Beginning her yoga practice in 2005, she has completed 500 hours of yoga teacher training within the ISHTA lineage and is a forever student of tantra – the path of intimacy with all of life. She teaches from her personal experiences of 'living yoga' as they unfold in the messy playground of daily life. Anna believes that every season of our inner and outer worlds can be navigated more gracefully with the appropriate attunement of posture, breath and awareness. In the studio she teaches a playful and rhythmic flow accompanied by thoughtfully curated music, with plenty of options to modify your practice to suit you. Expect a weaving of poetry, mantra, mystic spirituality, mythology and free movement. Her yin classes offer a warm, nurturing space for finding centre, deepened by a rich understanding of the subtle energy system. When Anna is away, her students miss her hearty adjustments, soothing voice, frequent giggle and relatable approach to spirituality. Anna holds a Bachelor of Behavioural Science and a Bachelor of Education, both of which inform her considered approach to teaching and self-development. She is currently studying a Master of Counselling. Outside of the studio Anna offers ceremony as an authorised marriage celebrant and Reiki practitioner. Anna lives and breathes the essence of tantra and delights in finding a sense of the sacred within every aspect of the human experience.
Oli Frances
Oli walked into his first yoga studio over 13 years ago and hasn't looked back. It quickly became something essential for his mental and physical well-being. He has now taught thousands of classes over the last seven years – including workshops, retreats, co-facilitating teacher trainings and organising special events.
He has built a reputation for clear and articulate teaching, with a knack for anatomical queuing – his classes are always challenging but simple and easy to follow.
From his perspective, yoga should be straightforward; something you can understand not only how – but why. With Oli, you get practical know-how and an understanding of why we do things the way we do them and how to apply that knowledge.
Oli also keeps busy as a musician, artist and BJJ enthusiast. He's found that these elements all influence each other in unusual and unexpected ways. But mostly, he's learned not to take it all too seriously. If you can enjoy what you do, you'll be motivated, feel less pressure to "perform" and enhance your experience and connection to self.
Stephanie Johnson
Stephanie Johnson is a 500hr ISHTA Yoga Teacher and shares the elevating tools of ISHTA (Integrated Science of Hatha, Tantra and Ayurveda) with the yoga community through classes, workshops and retreats across Australia. Stephanie is passionate about inspiring individuals to adopt these techniques to improve their mental health and wellbeing. Practicing for 16 years and teaching for 9, her teachers include ISHTA Yogiraj's Tamara Graham, Alan Finger, Sarah Platt-Finger, Mona Anand, Ulrica Norberg, Peter Ferko and Wendy Newton.
Stephanie has practiced and taught in India, Indonesia, Western Australia and Victoria. Her classes are carefully constructed to include both the dynamic and therapeutic elements of Yoga to leave the student feeling grounded, inspired and connected.
Laticia Wright
I attended my first Bikram yoga class in early 2009. I spent the previous 18 years to that dancing competitively and professionally and was looking for something to keep my fitness levels and flexibility up. I remember my first class was a bit of a haze, I wasn't quite sure what had just happened however the next morning I woke up with a calmness and clarity I found hard to explain. This is where my yoga journey began. I very quickly began to notice not only the physical benefits of yoga but the overwhelming mental benefits. I begin to practise regularly and my love for yoga has only grown as I learn more about yoga and as a consequence, I continue to learn more about myself. I was lucky enough to attend the Sumits Yoga Teacher Training course which commenced in April 2016. The 12 weeks of teacher training were life-changing for me and I'm forever grateful for the opportunity for all I learnt and to now be teaching what I love so much. I am a calmer and better person for doing yoga. I love that yoga brings people from all different walks of life together and I am privileged and honoured to share what I have learnt with students. Teaching yoga is extremely rewarding and I'm forever grateful for the opportunity. They say yoga is intended to be practised for a lifetime, I intend to practise and teach for my lifetime I feel it's what I am here for.